When it comes to his shows, Jack Johnson is something of a diva.
Before agreeing to play somewhere, his team hands the venue a detailed rider ― a list of demands that need to be met for him to play the show.
"You hear all these horror stories of people's riders requesting one color of M&Ms or super fancy champagne," the 40-year-old singer recently told The Huffington Post. "We just figured, all right, let's be demanding with these, because we know they're not going to switch back to those energy-draining bulbs once the show is over."
For Johnson, the riders are a way to chip away at the huge impact the concert industry has on the planet.
According to Pollstar, a concert industry trade magazine, the top 100 tours in 2015 sold an estimated 60 million plastic water bottles (the equivalent of 48,000 barrels of oil) while 130 million paper goods (about 160,000 trees) were used.
"I didn't know if I needed to keep touring, especially when I considered the environmental impact of what I was doing."
Jack Johnson
For Johnson, witnessing all that pollution on a regular basis was discouraging. After shows, he'd look out from the stage and see a sea of plastic bottles and wonder about the pristine, blue waves back at home in Hawaii. He often dreamed of going back to his first job as a surf film cameraman, even though he barely broke even back then.
"I didn't know if I needed to keep touring, especially when I considered the environmental impact of what I was doing," Johnson told HuffPost, adding that the record sales made him enough to live off of.
"There's a great song [by The Kinks] that I always think of," he told HuffPost, "because one of the lines sums up the way I feel: 'If my friends could see me now in this fancy hotel room, they'd ask me, 'What on earth are you trying to prove?'"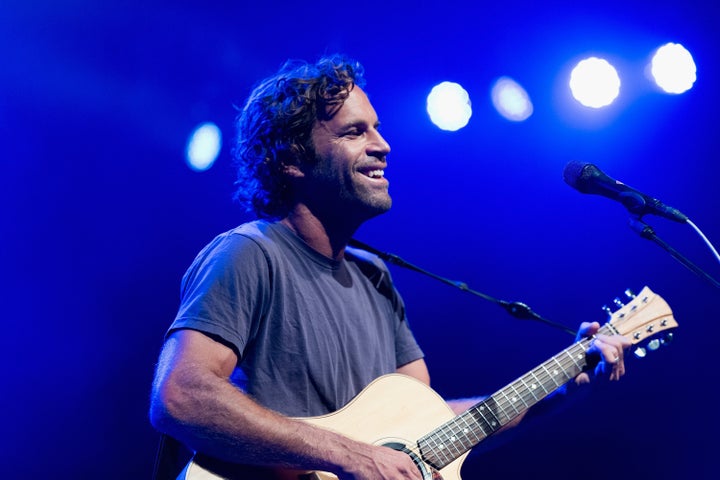 So in 2008, he and his wife decided that he'd only continue to tour if they could turn the tours into fundraisers and make sure they were as green as they could possibly be.
For the next five years, they used environmentally focused riders to force venues into "greening" up their spaces with reusable beer pints, water refill stations and energy-saving equipment. They traveled on tour buses and used generators that were powered by biodiesel fuel. He insisted on using caterers who use locally sourced, organic foods and encouraged fans to take alternative transportation to the shows by setting up bike valets or promoting mobile carpool apps. 
He even designated specific areas called "Village Green" and invited local nonprofits to set up during the show and educate fans about environmental issues.
And for those five years, 100 percent of the profits generated by the tour went back to nonprofit organizations around the world.
If I'm going to keep doing this, I have to help keep the industry I'm a part of be more responsible.
Jack Johnson
Johnson's greening efforts don't just benefit the planet, they can also usher in better business for the venues.
Upgrades like these, Johnson says, bring in good press and can attract better artists for more profitable shows. Sometimes, venues find that the greener options also end up being the cheaper option too.
"The thing we keep hearing from venues, which we think is cool, is that they realize [the changes they made] were more cost-effective," Johnson said. "Or, they just realize they had great feedback from the patrons and they get so much good press that they start doing everything they can [to green up the venue]."
The Santa Barbara Bowl, for example, asked its pizza vendor to forgo the cardboard pizza boxes when delivering food to the Bowl's in-house kitchen before a show, cutting out the use of the disposable good entirely for both the Bowl and the vendor while increasing the venue's profits by $1.60 per pizza.
It also sells reusable pints so that customers can buy a beer in a stainless steel souvenir cup and get a $1 discount on beer every time they bring it back to the venue. It saves the customer money and cuts down the venue's cleanup and plastic cup costs. 
"We try not to implement a greening procedure without understanding its return on investment," Eric Shiflett, the Bowl's program director, told HuffPost.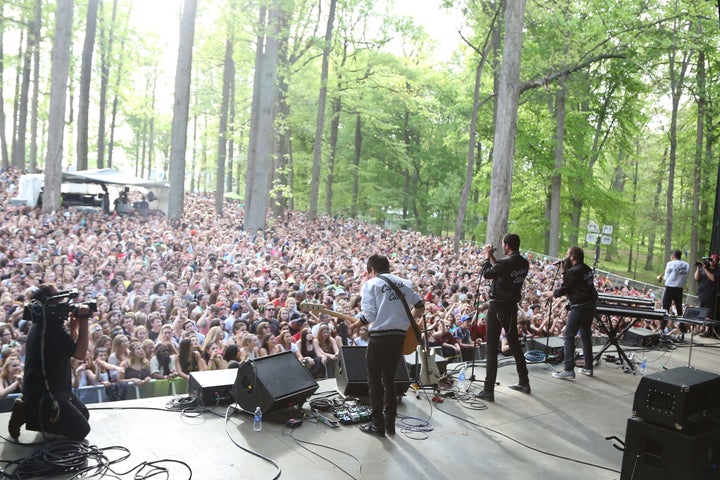 Erin Potts, co-founder of Revolutions Per Minute, a nonprofit agency that works with artists like Johnson to build strategies for philanthropy, believes that the music industry wants to catch up with these greener times.
"Sustainable practices are inevitable in any industry that you're in," Potts said during a February Pollstar conference. "I think there's momentum right now in the music industry to make this happen as easily as possible. What we're hearing over and over again is there is an opportunity to do good while doing business."
And Johnson is living proof.
During his last tour, his camp was able to offset 2.3 million pounds of CO2 emissions, divert 489 pounds of waste from landfills and prevent 18,392 single-use plastic bottles from being used, according to data collected by Johnson's nonprofit All At Once.
Now, he and his wife are working with agencies like RPM to turn their tour-planning formula into a model for other musicians to follow.
"It's just the responsible way to tour," Johnson told HuffPost. "If I'm going to keep doing music, I have to help keep the industry I'm a part of be more responsible."
This article has been updated to note that the lyric Johnson quoted is not by Elvis Presley, but is a paraphrase from The Kinks' "Sitting In My Hotel Room."