markets will be on heightened alert to any hint of rising or falling supply in this week's countdown to Iranian sanctions, while could continue rising on speculation about the US mid-term elections and President Donald Trump's clashes with the Federal Reserve. But the overarching factor for both remains the vulnerability of markets.
Crude oil prices lost 3 percent last week, falling for a third straight week, with global benchmark hovering at $77 a barrel versus bets a month ago that it could hit $100. Gold, meanwhile, rallied for a fourth week in a row, hitting a three-month high of nearly $1,250 an ounce.
Equity Markets Vulnerability A Key Driver
In both commodities, the slump in world equity markets was a key driver, with crude tumbling on growth concerns and gold buffeted by safe-haven buying.
In theory, when stock markets fall, oil and other commodities should rise as these are supposed to be "real" assets with intrinsic value that provide diversified portfolios a hedge when stock valuations are down. In reality, commodities and equities have often moved together when there's a flight in risk, while gold has often remained the safe haven of choice.
This week, a raft of top tech-company earnings are expected to keep on the edge. Adding to the pressure will be a trading near 10-week highs and the release of economic data including Eurozone Q3 , China and US and for October.
"For my oil call … most of it is meaningless until the equity markets calm down," Scott Shelton, energy futures broker at ICAP in Durham, North Carolina, said in his closing note for last week.
Sea Of Uncertainty On Iranian Sanctions
With the deadline to the November 4 sanctions against Tehran's oil exports entering its final stretch this week, the debate continues on whether the United States will be able to stop much of the world from taking barrels from the Islamic Republic. Since President Trump rescinded Iran's nuclear deal with the West in May, re-imposing sanctions on the world's fourth largest oil exporter, there have been doubts he could bring the Middle-Eastern country's oil sales to zero as he vowed.
That pessimism was reinforced on Sunday after Iran's oil ministry said it has started selling to private companies in the country for export, as part of a strategy to counter the sanctions.
Previously, privately-owned refining companies in Iran could only buy crude to process into oil products for resale. Since Sunday, however, crude was being sold to these firms in increments of 35,000 barrels for direct export, oil ministry SHANA said, without naming the buyers. It also did not state how these refiners could ultimately elude the US in shipping the crude internationally.
On the global front, while China has told its state-owned firms to stop buying crude from Iran, other major importers such as the EU and India are looking for ways around the US sanctions. The Trump Administration, meanwhile, fears Russia will buy Iranian oil and resell it as its own.
Aside from uncertainty over the impact of the sanctions, Saudi Arabia, the Organization of the Petroleum Exporting Countries (OPEC) and have been sending mixed signals on whether they'd cut production amid rising inventories. has risen without pause for five straight weeks, adding nearly 30 million barrels to domestic stockpiles.
The overwhelming bearish mood in oil caused hedge funds to slash their bullish wagers on US crude to their lowest in more than a year last week.
Gold Breaks New Ground Rallying With Dollar
Meanwhile, in the November 6 US mid-term elections and how that could impede the Trump Administration is adding to gold's safe-haven bid, which had already benefited from the US President's row with the Fed over rate hikes.
Fundamentally too, gold had broken new territory by rallying alongside the dollar, which is a contrarian bet to the yellow metal, say analysts.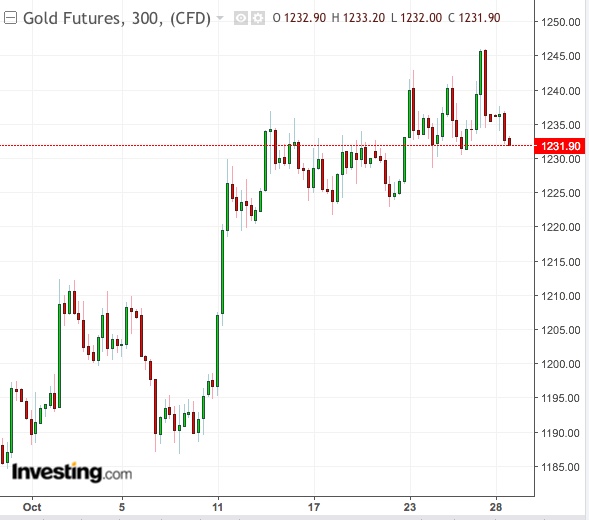 Gold 5-Hour Chart
Gold is on track for a 4 percent rise in October while the Dollar Index, which measures the greenback against a basket of six currencies, is up nearly 1.6 percent. More importantly, since Oct 16, both assets have risen in tandem, raising questions about their non-correlation theory.
"The question now on my mind is 'Is there starting to be a disconnect on the and the gold price?'" Walter Pehowich, executive president at Dillon Gage Metals in Addison, Texas, asked in his daily outlook on the precious metal on Friday.