Housing-related stocks, especially homebuilders, have taken it on the chin this year. Blame rising mortgage rates and a string of releases showing US home sales falling to multi-year lows. All of which has prompted investors to flee the sector.
Since the start of 2018, the SPDR S&P Homebuilders ETF (NYSE:) has plummeted, down 20.1%, compared with a 2.4% gain in the .
But in recent weeks, some of the individual names within the sector have finally started showing signs of recovery. Indeed, the Homebuilders ETF is up 8.2% since October 25, as mortgage rates have come back down from recent highs.
As well, as the current earnings season has progressed, the outlook for the industry has also turned less dire. Overall, home construction companies have framed the recent slowdown in sales as a momentary pause rather than the beginning of a sustained downturn.
Below we highlight the three most attractive names in the sector, which we believe are most likely to stage a turnaround in the months ahead.
1. PulteGroup Inc.
PulteGroup (NYSE:), the third largest home builder in the United States, has been on a tear since the release of its latest on October 23.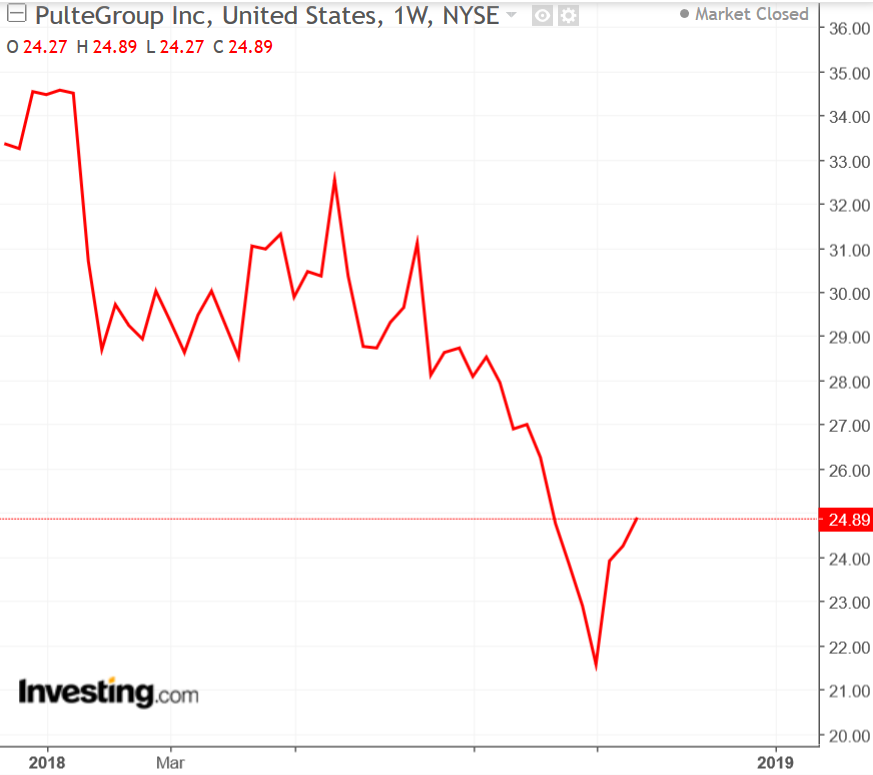 The company, which mainly sells single-family homes, has seen shares climb 16% since reporting better than expected third-quarter earnings late last month, as it reined in rising building costs. It also raised its forecast for the fourth-quarter average sales price to between $420,000 and $430,000. That's up from its previous forecast of $415,000 to $425,000, easing investor concerns that rising mortgage rates would hurt affordability and pressure the company's chances of raising prices.
Chief Executive Ryan Marshall said on the conference call post PulteGroup's earnings release that though buyer interest remains high, inventories are low, with land and labor constraints helping to reduce the risk of overbuilding. PulteGroup shares looked poised for further capital appreciation. The company's top and bottom lines are expected to grow considerably, courtesy of higher revenues and margin improvement.
2. Meritage Homes Corporation
The seventh-largest homebuilder in the US, Meritage Homes (NYSE:) sells single-family houses for a variety of customers, everyone from first- time buyers, to move-up, luxury and active adult customers across the Western, Southern and Southeastern United States.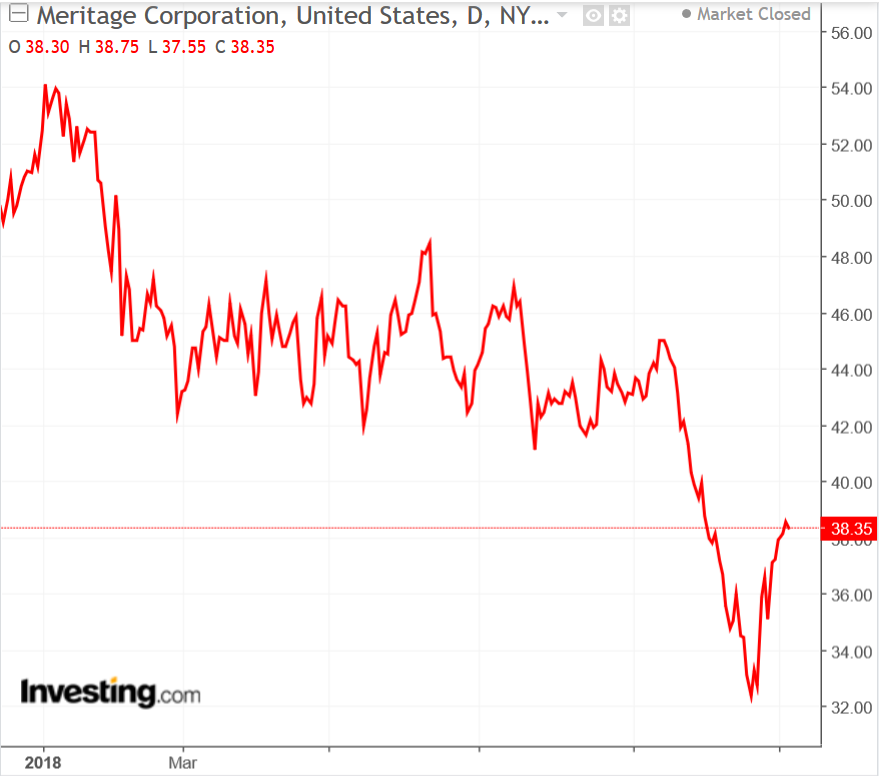 Shares have jumped 17.7% since it reported on October 24, despite missing estimates by a wide margin. Expected to report profits of $1.37 per share on $899.6 million in sales, the Arizona-based homebuilder instead turned in a $1.33 profit on $884.6 million in its fiscal third quarter.
However, earnings were still 30% higher than in the same period a year earlier and revenue grew 10% year-over-year, despite lower average sales prices on the homes closed in the quarter. CEO Steven Hilton noted that Meritage closed on "the second highest number of homes we've delivered in more than a decade" this past quarter.
Meritage looks set to continue its strong performance in upcoming quarters as its big bet, focusing on entry-level housing, pays off. During the company's last earnings call Hilton said:
"The combination of higher home prices and interest rates have clearly impacted recent home buying activity, especially at higher price points, which we anticipated two years ago when we undertook our strategy to build more affordable homes to cater to the expanding entry-level and move-down markets."
3. LGI Homes
Currently the 15th largest homebuilder in the US, LGI Homes (NASDAQ:) is a Texas-based, entry-level builder of housing developments in the southwestern United States. Most of its projects are in the Texas, Arizona, Florida and Georgia markets. Shares have gained 18% since October 23.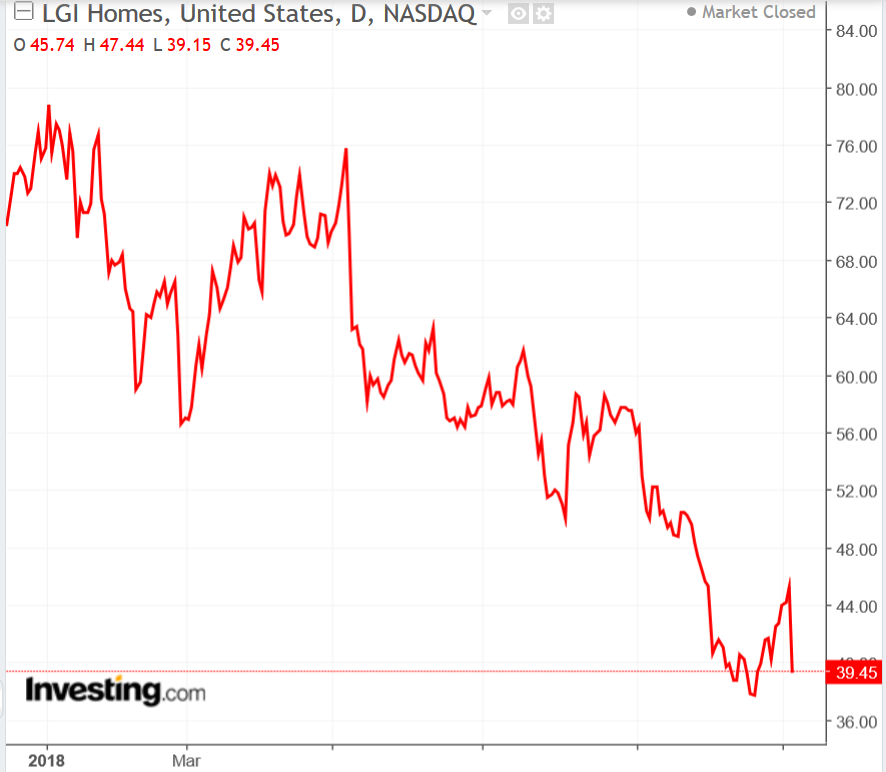 During its Q3 2018 release on November 6, the company reported earnings per share of $1.52, which beat forecasts for $1.48. Revenue came in at $380.4 million, beating expectations of of $378.9 million.
The company also announced it had closed on 468 homes in October. Year-to-date, the company closed on 5,128 homes, a 13.2% increase for LGI over the 4,532 home closings figure for the first ten months of 2017.
Similar to Meritage Homes, LGI has positioned itself as a dominant player in the affordable, entry-level segment of the housing market. The average selling price for LGI houses is expected to be between $220,000 and $230,000 this year, versus the national median of $328,700, placing the company in a prime position to benefit from strong demand for entry-level homes.